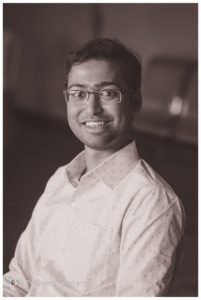 Biography:
Dr. Gopi Krishna Vijaya is from Bangalore, India. He has completed his undergraduate physics training from the Indian Institute of Technology Kanpur (India), and his PhD in Physics (Solar Energy) from the University of Houston in 2014. He is currently engaged in the Postdoctoral Research of the Reciprocal System of Physics – a way to inculcate Goethean thought into modern physics – in Salt Lake City, USA.
His work spans several subjects and is mainly focused on their connection to spiritual science. Some samples of his work include:
Projective Geometry and its significance in Architecture (2-day workshop)
Technology and the Laws of Thought (on computers – published in the Waldorf Research Bulletin)
What is India? (On the Threefold nature of the Indian subcontinent, published online)
Living nature of Liberty (study of ideas behind Libertarianism)
Several papers in Physics with regard to Goethean Science, foundations of astronomy, calculus, and the Reciprocal System of physics theory. (available online)
In the natural scientific domain, he has been the author of 13 journal publications in experimental and theoretical semiconductor physics, presented his work in multiple international conferences (IEEEPVSC, SPIE etc.), served as a research mentor for a number of students, worked with the Port of Galveston Solar Project and collaborated with MIT, Cal Tech, Imperial College London, University of New South Wales and the University of Tokyo among others in an International Consortium for Solar Energy.
Conference Description:
The purpose of this conference is twofold. One aspect is to enable the thoughts of the participants to come completely to grips with the technological progress of the past, present and future. The other aspect is to utilize this knowledge to find new ways of thinking and working with existing technology in a practical sense, and also develop new technologies. The intention is to speak of technology not only in general overarching descriptions, but also in their immediate details. This would cover topics ranging from old tools to steam engines to smart-phone apps, both in terms of processes as well as the materials used for these devices.
Technological progress is not random: it is therefore absolutely essential to develop a feeling for the method behind the changes that have happened over time, as a historical process. Nor is the way technology has developed so far (culminating mostly in pushing buttons) the only way that the development could have happened. There are alternative paths often completely overlooked, which have to be energetically picked up again in order to have a chance of bringing morality to technical development. The technological stream can then be redirected to serve ethical development better, and it is hoped that a way to do that will be the positive outcome of this gathering.
Preparation Material:
Technology and the Laws of Thought
http://www.anthroposophy.org/fileadmin/being-human/bh-16-2016-Easter-Spring/Technology_and_the_Laws_of_Thought_GopiVijaya_2015.pdf
Domino Computer Worksheets
http://think-maths.co.uk/sites/default/files/downloads/think_maths_domino_computer_worksheets.pdf
Muslim Engineers and their contributions to Modern Technology
http://www.ukm.my/kamal3/iae/previous/Muslim%20Engineers%20and%20Their%20Contribution%20to%20Modern%20Technology.pdf.
Heron of Alexandria
https://pdfs.semanticscholar.org/8c0d/5727454a3da081ae62cdea6a6de7c929f533.pdf
Computer and the Incarnation of Ahriman
http://wn.rsarchive.org/RelArtic/BlackDavid/DB1981/CmpAhr_index.html
Can Technology make the Handicapped Whole?
http://www.netfuture.org/1999/Jul2199_92.html#1
The Antikythera Mechanism
http://hbar.phys.msu.ru/gorm/ahist/antikythera1.pdf
Reference Books:
The Nature of Substance, Rudolf Hauschka
Gondishapur and Silicon Valley, Vols. 1,2, Paul Emberson
If A Then B, How Logic Shaped the World, Shenefelt and White
Turing's Cathedral, George Dyson
Mendeleyev's Dream, Paul Strathern
Essays
Goethean Science and the Reciprocal System