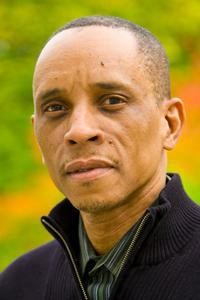 "The technological age of human life" with Orland Bishop
Building on the success of the 2016 Moral Technologies event with Nicanor Perlas
Spend four days delving into the theme of moral technologies with Orland Bishop, founder and director of ShadeTree Multicultural Foundation in Los Angeles.
Together we will explore the nature of technology, morality and the agreements that shape our relationships, our societies and our future(s).
Investigate the consciousness and creativity needed to meet the challenges and opportunities in this technological age.
The event is a full immersion over four days: 7 to 10 April 2017.
---
IMPORTANT ANNOUNCEMENT

Unfortunately we have to announce the news that Orland Bishop will likely not be able to join us for Moral Technologies in Melbourne due to visa issues. We have been working every day to try to make it possible. It has been a huge blow to those of us organising this conference, and for Orland who was ready and enthusiastic to come.

At the time of writing this there is still a small chance that Orland will make it. After conversations and thought it has become clear that we should go ahead anyway! We have an amazing community of people registered and many contributors amongst us. We will use technology to Skype Orland in live for a lecture every morning and Lisa Devine will follow this with content through talks and workshops. Bruce Mackenzie is still joining us in the afternoons to map, discuss and find out how we do something with what we talk about. And the part that made Moral Technologies so special last year – all the meetings and conversations, and the community that is formed over the four days – will of course still be present.

We trust that something will shine through this event regardless of the changes, but should you wish to alter your attendance, please be in touch via email asap.

Changes to the schedule as follows:

– First session of each morning: Orland Bishop will lecture live from the USA via Skype.

– Second session of each morning: Lisa Devine* will present and workshop the theme further, taking Orland's lecture as the starting point.

– Rest of each day will continue per program, along with a few surprises.

The public lecture at 7pm on Thursday 6 April at The Christian Community, 319 Auburn Rd, Hawthorn will be given by Lisa Devine.

The public panel (as part of the conference) at 7pm on Friday 7 April at the Holy Cross Retreat Centre, 207 Serpells Rd Templestowe will also still go ahead with Bruce McKenzie, Ian George and Lisa Devine and Silvia Zuur, hosted by Clare Coburn.

We are excited about this new format of the event providing a rich exploration of the theme: The Technological Age of Human Life. We hope you will be understanding of this difficult situation, and look forward to working with you all out of this new opportunity and the impulse that is arising.
---
Timetable: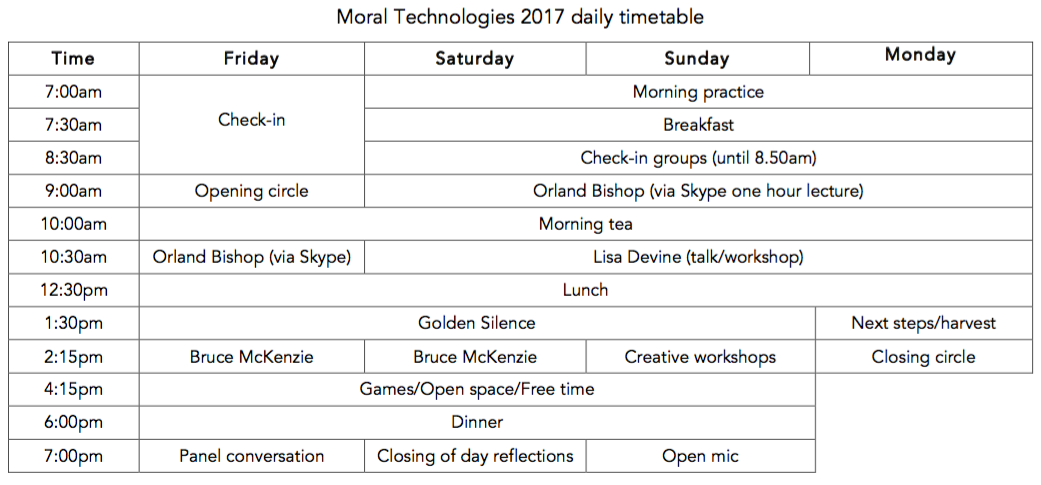 The venue is the Holy Cross Centre in Templestowe, Melbourne.
As well as lectures from Orland, the event will include conversations, activities and workshops to encourage a deep exploration of our relationship to technology and our inner capacity to create change as human beings. Creative ways of digesting the work will be a key component of this event. The event will feature special options for younger people.
Orland Bishop (link) combines a deep dedication to human rights advocacy and cultural renewal with an extensive study of medicine, naturopathy, psychology and indigenous cosmologies. He was a research fellow with the Centre for the Study of Violence and Social Change at Charles R. Drew University of Medicine and Science in Los Angeles and has consulted with many human development organisations.
The retreat centre is in beautiful grounds in the eastern suburbs of Melbourne, easily accessible by bus. Accommodation is in twin share rooms for those who stay on site.  Meals will be vegetarian and we will accommodate special dietary requests.
Due to the depth of work during this event there will not be day passes available. However, Orland will present two public events:
Public lecture: 7pm, 6th April, venue: Christian Community Chapel, 319 Auburn Rd, Hawthorn, Melbourne
Public panel with Bruce McKenzie and others TBC: 7pm, 7th April at 207 Serpells Road, Templestowe VIC
All events are suitable for participants aged 15 and upwards.
Choose your contribution according to your level of income. Travel support and scholarships are also available to support participants under 38 (or those in need). Financial support is primarily for Australian residence.
For questions and enquiries please go to our contact page.
---
Register
---
Public transport to Moral Technology.
You will see all the public transport details on the website:
http://ptv.vic.gov.au/journey#jpsearch%5Baction%5D=showPlanner
Under step 1: enter journey detail
Going to: 68-70 Reynolds Rd (Templestowe)
Get off at the stop Smiths Rd/Reynolds Rd (Templestowe) then you have to walk from the bus stop 550m to the Holy Cross Centre (see map).
For late or early arrival times please contact the organisers on 0423491286