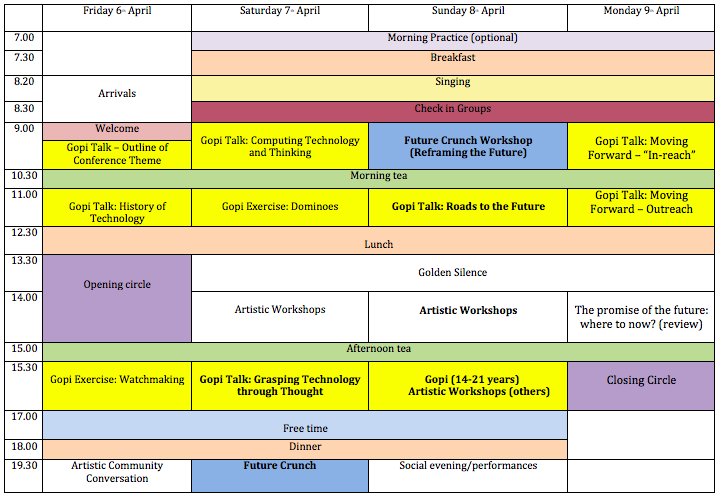 CHECK-IN GROUPS
Each morning we meet in small "check-in" groups. It gives us a space to say what needs to be said so that we can focus on enjoying the conference. It's also a good way to get to know people and ask any questions that need to be asked.
GOLDEN SILENCE
Four-day conferences are demanding, rich with content, conversation and experience. A small portion of each day, after lunch, is set aside to be a consciously taken quiet period: Golden Silence. One can sleep, read, walk and/or reflect in this time. A time free of talking, speaking, conversation, discussion; that's for all the other time!
FOOD
Breakfast, lunch and dinner are provided. The food is yum, it's vegetarian and it's prepared by generous chefs who take pleasure in nourishing us while we work. Special diets can be catered for, please get in touch with us if you have any questions. And there is plenty of cake with our tea and coffee!
MORNING PRACTICE
Before the lectures and formal proceedings of each day start, there will be an optional morning practice of breathing, stretching and meditation. It is a place to centre oneself to be present and ready for the day.
ARTISTIC ACTIVITIES
Moral Technologies is a holistic conference. Alongside the critical thinking and discussions are offered creative workshops: dance, kung fu, eurythmy, singing and more. We believe that engaging our bodies and souls is as important to learning how to meet technology as engaging our minds.
'Conversation in colour' with Gemma McKenzie
On Friday we will finish the day with a 'conversation in colour'. This exercise will focus on what the individual offers and how we come together to work as a community. Small groups will work together using a different form of communication than the spoken word. Each group will then be visited by guests who bring something from outside of the community. At the end of the exercise there will be time to reflect on what it was like to work together in this way.
Singing Workshop with Kore Brand
Music is a language that everybody understands!
This workshop is designed for those people who love to gather and sing along, and also for those who haven't ever dared to sing up in a group. We will sing easy songs from different cultures and, depending on the capacity of the group, also practice more difficult ones with several harmonies.
And – who knows? – maybe we want to present something at the Open Mic night?
Singing together is a beautiful way to meet people in a very true sense. It is not required to be able to read music.
Dancing with Inga Muribo
This 1 hour workshop is for those who wish to move, dance and re-energise their body. 
You will be guided through movement explorations relating to the event theme. What is the difference between mechanical and organic movement? Between order and chaos? Between tension and flow? What is the embodied experience of being human? 
No dance experience needed. It's recommended to wear loose and comfortable clothing. 
Eurythmy with Kimberley Hammerton 
Moral Technology – A Practical Guide with Kimberley Hammerton –
Do we have the world at our fingertips or are we at the fingertips of the world? Does technology need us or are we simply a slower, lower-functioning edition to the new machine? And what is the frame of reference at this new frontier?
In a practical workshop, these are some of the questions we will be creatively taking up. I'll be exploring how we can discover and develop moral technologies using movement and the work of spiritual science to find alternative and complementary ways to unearth new futures.
Workshop with Clare Coburn 
With a wide range of tools up her sleeve, Clare will listen to what is needed from the group and facilitate a workshop that is both creative and transformative. Clare uses story, writing, poetry, listening and other tools. You can read more about Clare's work here: https://clarecoburn.com/